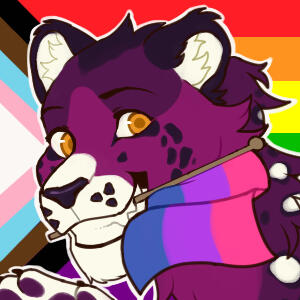 Hey! I'm Tempest!
About + Interests
Jack of all trades, master of none... But better than a master of none.Hey there, I'm Tempest. I'm 21, a Music Education Major, and I generally life to think of myself as a pretty chill person. In real life I'm a marching arts nerd, trumpet player, artist, ttrpg dungeon master, writer, amateur Fursuit maker/cosplayer, and a whole lot of other stuff. I ID as a bisexual, polyam, gray-ace (aego) trans man and go by He/Him pronouns. (I'm not out as transgender everywhere, and so I may have no pronouns listen on sites where certain folks follow me, so please respect that.) I'm also probably neurodivergent but I've not been diagnosed.I'm anti-fascist, and I believe that black lives matter, and that trans rights are human rights.My primary interests include:
+ Homestuck
+ Ace Attorney
+ Furry community
+ D&D + Other TTRPGs
+ Marching Arts + DCI
+ Misc. Comics + Animation
+ Various Video Games (Mostly Indie Tiles)
Before You Follow
My accounts are SFW, but my likes/following may not always be. If you're a minor, please keep that in mind.I'm really bad about tagging content warnings, but make an effort to avoid posting irl graphic material.If you're under 18 I'm fine with you interacting with my content on a public level, but please do not DM/mention/follow me with the intent of befriending/chatting thanks! I prefer that you don't follow me if you are under 15.Just in general don't follow me if you're a Terf, Homophobe, Racist, Right-Winger or otherwise a bigot. I don't think you'd like me very much, anyway. Pedos and Zoos will be blocked on-sight.Optional reads:I am a safe space for folks who are exploring their gender/sexuality, even if in the end you decide that you are straight/cis. This includes folks who have "detransitioned" and are still respectful allies of the trans community. Taking a leap of faith and confronting your normal deserves respect, regardless of the end result.My stance on shipping discourse:
While I am technically an anti, I hate terms relating to shipping discourse, and you generally won't see them on my page. These labels cover a wide range of topics that are contextually reliant on the person using them, and therefore lump pedophiles, zoophiles, and incest-fetishizers together with folks who have "bad fandom opinions." I personally avoid using humanizing terms like "MAP" and "Zoosexual;" and in my experience "proshipper" is used similarly. Boiling the creation of (for example) child pornography down to "shipping discourse" infuriates me, and so you will not see discourse relating to this on my page. If someone is doing something disgusting, I will call it what it is. Vague, blanket name-calling helps no one.
Socials, Characters, Comics, and Commissions
Mostly retweets; the best way to get ahold of me.
Portfolio + Commission Info
List of Characters + Their Art
Participant Every Year, Team Steam!
Public Commission Queue
Occasional Livestreams
Ask About Commissions!I do not have set prices for commissions! I work one-on-one with my clients to come up with a fair price after discussing details. Because of this, I offer free no-pressure quotes, with no obligation to you to follow through. If you have a set budget, let me know and I'll help you find something to work within it.
I will draw furries, humanoids, and NSFW for a markup. I won't draw anything with bigoted themes. Ask about mechs.
Upon commissioning me, you'll be asked to sign a T.O.S. usually over a google forum. Because different commissions require different things out of me and serve different purposes, it will be personalized. I do not have a public TOS for this reason, but expect the following to be consistent across the board: I usually take partial payment upfront and partial payment before sending the full-res file, refunds are considered on a case-by-case basis and take into account the amount of work I've completed, Commissioned art cannot be used for NFTS.
If you are OVER THE AGE OF 18 YEARS and wish to commission something NSFW check out this page to see some more specific information.